This is an archived article and the information in the article may be outdated. Please look at the time stamp on the story to see when it was last updated.
Manny Pacquiao, who rose from fighting for a few pesos so his mother could afford rice to become a record eight-division boxing world champion, is on the brink of being elected to the Philippines Senate thanks to his pugilistic fame.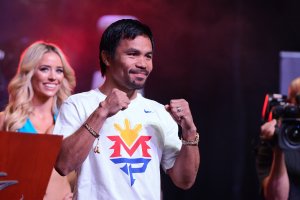 Pacquiao, 37, a congressman in the country since 2010, representing the Sarangani province he calls home, stands in eighth place in his country's national election that will fill 12 new Senate seats.
With more than 91% of the votes counted Tuesday in the Philippines, according to Rappler.com, Pacquiao's 14,952,141 votes are more than two million more than the 13th-place candidate.
Pacquiao balanced his congressional work while participating in major pay-per-view bouts against the likes of Floyd Mayweather Jr., Juan Manuel Marquez and Timothy Bradley, training both in the Philippines and Wild Card Boxing Club in Hollywood.
Click here to read the full story on LATimes.com.