This is an archived article and the information in the article may be outdated. Please look at the time stamp on the story to see when it was last updated.
HELSINGBORG, Sweden — At least 3 people are dead and dozen injured after a 100- car pile-up on a highway in southern Sweden.
The massive chain-reaction crash on the E4 motorway near Helsingborg occurred shortly before noon on Jan. 15.
The enormous pileup began as a collision on one of the highway's bridges.
Eventually, vehicles in both lanes were involved in a wreck spanning more than a mile.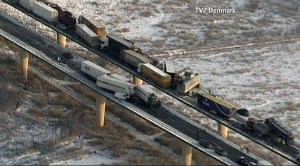 Police spokeswoman Eva-Lotta Hermansson Truedsson says at least two rescue vehicles were among the cars and trucks that collided on the slippery and foggy highway.
Multi-car crashes are rare in Sweden, which is said to have some of the safest roads in Europe.