This is an archived article and the information in the article may be outdated. Please look at the time stamp on the story to see when it was last updated.
A series of huge explosions shook the northern Chinese city of Tianjin late Wednesday, killing at least 44 people and injuring hundreds more, according to officials and state media.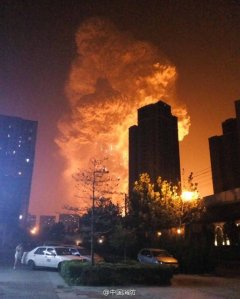 The cause was not immediately clear.
Liu Yue, a 25-year-old Tianjin resident, said she felt the first blast but didn't think too much of it.
"The second explosion was so powerful that I felt the entire 16-floor-building was shaking," said Liu, who lives about 4 kilometers (2½ miles) from the site of the blasts. "I thought it was an earthquake! I was extremely scared. I was afraid my family was in danger."
The initial explosion erupted at a warehouse for a logistics company in an industrial area of the port city, according to Tianjin police. The company was identified as Tianjin Dongjiang Port Rui Hai International Logistics Co. Ltd.
The state-run news agency Xinhua reported that an explosion tore through a warehouse storing "dangerous and chemical goods" in Binhai, an area of the city by the water.
The firefighting division of the Chinese Public Security Ministry said firefighters were first called to the scene about a fire. An explosion went off after they arrived, it said. Smoke continued to billow into the sky from the site Thursday.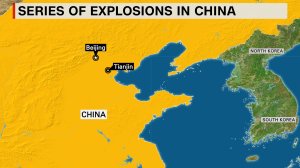 Xinhua reported Thursday that nine firefighters were among the dead and dozens more remained unaccounted for in the aftermath of the blasts.
Video from late Wednesday showed a blinding blast of light and smoke that sent fireballs shooting across the night sky. That was followed by an even bigger explosion, the force of which appeared to knock over the video camera.
The shock waves were felt kilometers away, Xinhua reported, and some residents said windows and fish tanks had been shattered.
The state-run China Earthquake Networks Center said in an official post on social media that two of the explosions had carried the force of small earthquakes. The first was measured at magnitude of 2.3, the second at 2.9, it said.
As day broke Thursday, the extent of the damage was beginning to become clear. State media carried images of damaged buildings and parking lots full of rows of burned-out cars.
Xinhua said that 44 people were killed and more than 500 were injured, 32 of them critically. It had reported earlier that most of the injuries were from stones or broken glass.
The injured were taken to different hospitals in the city, and people gathered outside, waiting for news of loved ones.
Many roads were blocked off around the city, which has a population of more than 13 million.
Chinese President Xi Jinping and Premier Li Keqiang have called for "all-out efforts" to save the injured and minimize casualties, Xinhua reported. Li also promised a full investigation of the incident.
Explosion in #TianjinCity China 08/12 Himawari8 SWIR http://t.co/SadU2X5cWx #RealEarth™ @UWSSEC @UWCIMSS pic.twitter.com/zWa3B1iEdi

— Russell Dengel (@RussellDengel) August 12, 2015