This is an archived article and the information in the article may be outdated. Please look at the time stamp on the story to see when it was last updated.
McDonald's is about to test a new business model in Missouri with a very appetizing feature: All-you-can-eat fries.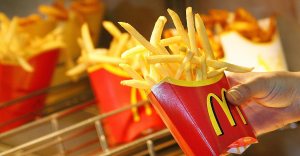 In addition to the unlimited fries, customers will be able to place their orders at kiosks, which will include hundreds of customizable burger and dessert options. When the order's ready, it will be brought to the table. This is supposed to speed up the whole process.
The new kiosk system means this McDonald's won't need as many cashiers, but franchise owner Chris Habiger says he still plans on hiring 85 employees for this location, in St. Joseph, a little less than 50 miles north of Kansas City.
Habinger told his local newspaper, the St. Joseph News-Press, earlier this month that the new 6,500-square-foot restaurant will offer unlimited fries. He made the announcement about the plans for the "McDonald's of the future" with an "entirely new dining experience" on April 5.
The all-you-can-eat fries will be available to patrons who customize their burger or chicken sandwich orders, he said.
Bloomberg reports that McDonald's locations across the country have removed healthier wraps from their menus, to focus more on the chain's all-day breakfast.
Edward Jones analyst Jack Russo told Bloomberg, "A lot of people who eat at restaurants aren't interested in health and wellness. You've got to give the people what they want."
And maybe that's just what this new McDonald's franchise is trying to do.
The St. Joseph location is set to open in July.
KTLA's Melissa Pamer contributed to this article.