This is an archived article and the information in the article may be outdated. Please look at the time stamp on the story to see when it was last updated.
Three scout leaders who videotaped themselves knocking over an ancient boulder in Utah's Goblin Valley State Park were removed from their posts within the organization on Monday.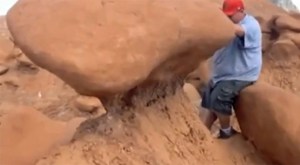 "After reviewing this matter with the local chartered organization, these men have been removed from their leadership positions and are no longer members of the BSA," according to a statement from the National Boy Scouts of America.
"We encourage all leaders and Scouts to review the 'Leave No Trace' principles, as we are all a part of maintaining the integrity, character and the natural beauty of the outdoors for all living things," the statement said.
Video of Glenn Taylor toppling a rock from the pedestal where it had balanced itself for 170 million years went viral after his friend David Hall posted it on his Facebook page.
Hall, Taylor and Taylor's son, Dylan, were leading a Boy Scout group on a visit to the park when the incident happened, according to CNN.
All three men are facing possible criminal charges in connection with the park incident.  They have also received hundreds of death threats for their actions.
"I've gotten death threats from people in Germany and Spain and New Zealand … I mean hundreds and hundreds of hateful messages," Hall told the Deseret News.
Glenn Taylor was facing an additional controversy of his own Monday when it was revealed that he had filed a personal injury lawsuit last month claiming he suffered "debilitating" back injuries in a 2009 car accident and had to "endure great pain and suffering, disability, impairment, loss of joy of life," local CBS affiliate KUTV reported.