This is an archived article and the information in the article may be outdated. Please look at the time stamp on the story to see when it was last updated.
A fireball lit up the skies around Phoenix Thursday, leaving groggy residents wondering if it was a meteor, an explosion or something else.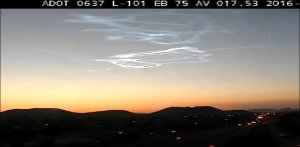 NASA said a small asteroid zipped into Earth's atmosphere above Arizona at a breezy 40,000 mph. After lighting up Phoenix, NASA estimates it moved south, with pieces of the meteor landing somewhere north of Tucson.
A Phoenix Police Department spokesman told CNN that they got more than 60 calls about the meteor, which was seen at about 4 a.m. (7 a.m. ET).
"Many of the callers mistakenly believed they were being burglarized due to the accompanying sound created," Sgt. Jonathan Howard said.
Phoenix resident John Burgmeier said he heard multiple booms as the fireball came out of the northeast.
"(It) literally made the entire sky bright," he said. "It was like it was daytime."
The fireball was also captured on surveillance cameras at a Phoenix school.
People who missed the show woke up to see the squiggly trails it left behind.