This is an archived article and the information in the article may be outdated. Please look at the time stamp on the story to see when it was last updated.
We obtained this footage of @SchuetteOnDuty, dated from 1989. It seems… interesting. Can anyone give us more information about this video and who the woman is behind the camera? #migov pic.twitter.com/1ErYoodZZV

— American Bridge (@American_Bridge) October 11, 2018
Michigan Attorney General Bill Schuette, the Republican nominee for governor, said Thursday that he regrets his behavior in a video from 1989 that appears to show him trying to flirt with a woman off camera as she sets up for an interview.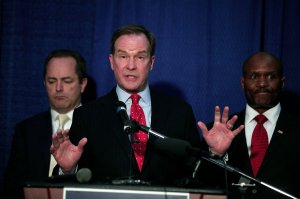 Schuette's campaign said he did not know the source of the clip or "recall the apparent interview." Schuette, who is running against Democrat Gretchen Whitmer to succeed GOP Gov. Rick Snyder, was apologetic in a statement.
"That apparently was my poor attempt to be humorous 30 years ago," he said. "The video, which appears to be edited with only one short portion shown, has been in the public domain for some time. It's fortunate for me that (his wife) Cynthia came into my life and let me know that I am not a very funny guy, but this is no less embarrassing to me today and I regret it."
The clip, which was circulated on Twitter by the pro-Democratic opposition research group American Bridge, shows Schuette speaking to a mostly unseen woman attempting to produce a television interview.
When she asks if Schuette would "please move closer" to a lamp to his right, he looks directly at her and says, "I would be happy to move closer to the lamp."
After adjusting his tie, Schuette adds: "I will do anything you want. Some things I may not let you run the camera on, but I will certainly happily —"
The woman can be heard at that point saying something about making "you look as good as possible," to which Schuette replies, "It's no easy task. I admire your tenacity. I appreciate your spirit of Vincent van Gogh, Rembrandt and Toulouse-Lautrec."
Schuette would have been around 35 years old and serving as a congressman from Michigan's 10th House District when the video was made. He has been the state's attorney general for nearly eight years.
"I imagine everyone who's watched (the video) had the same uncomfortable look on our faces," said Whitmer, a former state Senate minority leader, in a statement.
"But even more troubling," she added, "is the fact that Schuette has spent the past 33 years in office attacking the rights of women and working to take away our access to contraception and health care."
In 2013, Whitmer made national headlines when she revealed, in remarks opposing a controversial Michigan bill requiring women to purchase additional insurance to cover potential future abortions, that she had been sexually assaulted decades earlier.