This is an archived article and the information in the article may be outdated. Please look at the time stamp on the story to see when it was last updated.
Amid the Upper Midwest's frigid winter conditions, Minnesotans are freezing their pants off. Literally.
The outdoor art trend — in which residents are leaving solid-frozen clothing standing up atop snowy lawns — was reported Thursday by a meteorologist at WCCO, a Minneapolis television station.
"Yesterday, right behind me, I saw the man standing in the yard and I didn't really know what to think," Minneapolis resident Justin Hauser told WCCO. "I thought it was a person at first, but then saw that it was just frozen clothes."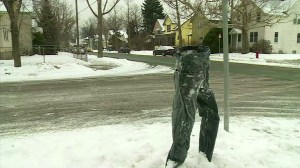 Hauser said he spotted a pair of upright pants on a walk with his dog, and the pooch was so afraid he tried to run away.
The trend began during a recent cold snap and spread from one home to other houses in a neighborhood of northeast Minneapolis, WCCO reported.
A local photographer told ABC News he does it to entertain a neighbor who is less than enthusiastic about the cold.
Photos of the frozen-pants sight have taken off on social media, and news organizations in Minnesota — and elsewhere — have responded to the trend with glee.