This is an archived article and the information in the article may be outdated. Please look at the time stamp on the story to see when it was last updated.
The US-led coalition has killed 18 of its own allies in Syria in what it described as a misdirected airstrike.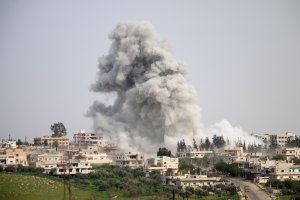 The strike was carried out on Tuesday and killed members of the Syrian Democratic Forces (SDF), which Washington and other nations have backed and coordinated with to fight ISIS militants in the country.
"The strike was requested by the partnered forces, who had identified the target location as an ISIS fighting position. The target location was actually a forward Syrian Democratic Forces fighting position," the US Central Command said in a statement Thursday.
"The coalition's deepest condolences go out to the members of the SDF and their families. The coalition is in close contact with our SDF partners who have expressed a strong desire to remain focused on the fight against ISIS despite this tragic incident."
The deaths marked the third time in a month that civilians or allies have been killed in U.S.-led airstrikes, the New York Times reported.
Airstrikes that killed civilians in a Syrian mosque and other bombings west of Mosul, Iraq — incidents that all occurred in March — are already under investigation by the U.S. Department of Defense.
Thursday's statement said that the coalition was assessing the Tuesday incident.
The airstrike was carried out south of Tabqa, a focus area for the coalition as it closes in on the ISIS heartland of Raqqa.