This is an archived article and the information in the article may be outdated. Please look at the time stamp on the story to see when it was last updated.
LAS VEGAS (KTLA) — A new Miss USA was crowned in Las Vegas on Sunday night, but it wasn't the winner who was making headlines on Monday.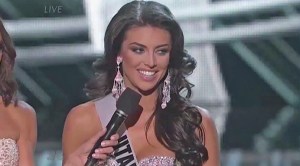 Miss Connecticut Erin Brady, 25, took home the title.
But her competitor, Melissa Powell, of Utah, seemed destined for viral video infamy with her fumbled answer to a question about income inequality.
"I think we can relate this back to education, and how we are continuing to strive… to…" she said, taking a long pause.
"Figure out how to create jobs right now. That is the biggest problem," she continued.
"I think especially the men are, um, seen as the leaders of this, and so we need to try to figure out how to… create education better so we can solve this problem," she added.
Despite the flub, Powell didn't walk away empty-handed. Miss Utah was the third runner-up.