This is an archived article and the information in the article may be outdated. Please look at the time stamp on the story to see when it was last updated.
Kansas City voters overwhelmingly approved a $10 minimum wage, but a Missouri state law will keep it from taking hold.
The ballot measure would raise the minimum wage from $7.70 to $10 an hour in the city, followed by annual increases up to $15 in 2022.
"VICTORY!" the organization KC for $15 trumpeted on Facebook.
But a state law that goes into effect August 28 overrides city laws and caps their minimum wages at $7.70.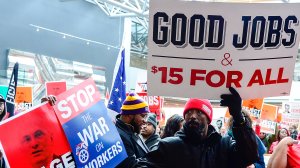 "We are so pleased that Kansas City has demonstrated a progressive political perspective on tone and attitude on this issue," said the Rev. Vernon Percy Howard Jr., president of the Greater Kansas City board of the Southern Christian Leadership Conference, which backed the increase. "Our brothers and sisters deserve human dignity."
The Kansas City ballot measure set the increase for August 24, four days before the state law takes effect. Howard said proponents of a higher minimum wage were considering their options.
The law has pitted voters in blue cities against voters elsewhere in red-state Missouri. In 2015, St. Louis voters approved raising the minimum wage to $10 an hour and then to $11 in 2018. But the state law will take it back to $7.70 this month.
That city successfully defended its minimum wage hike before the Missouri Supreme Court. But the Missouri General Assembly overrode the court by passing the statewide restriction earlier this year.