This is an archived article and the information in the article may be outdated. Please look at the time stamp on the story to see when it was last updated.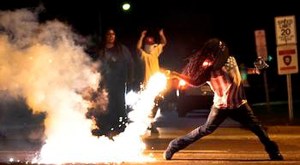 As twilight came to this St. Louis suburb where the police killing of an unarmed young black man touched off several nights of unrest, law enforcement turned out in force Wednesday evening to discourage more protests.
Officers armed with assault rifles stood near armored personnel carriers and faced off with demonstrators near the scene of Sunday night's looting and vandalism. A convenience store was burned out, and several other businesses were damaged.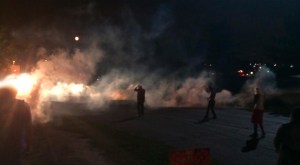 Authorities had asked demonstrators not to gather Wednesday night, but they did. So did the police.
In the early evening, a brief contretemps broke out when two journalists were taken into custody. The reporters — one from the Washington Post, the other from the Huffington Post — were quickly released at the intervention of Ferguson Police Chief Thomas Jackson.
Click here to read the full story at LATimes.com.