This is an archived article and the information in the article may be outdated. Please look at the time stamp on the story to see when it was last updated.
[protected-iframe id="d6a6de09d32fe5aadd255186b9263d6c-41641936-58900479″ info="http://c.brightcove.com/services/viewer/federated_f9?isSlim=1″ width="640″ height="390″]
A quick-thinking Missouri high school student was being hailed as a hero after recently helping to save the life of a baby who was not breathing at a Wal-Mart, according to a report.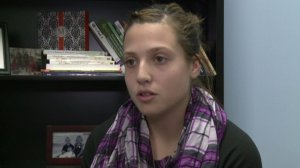 The incident, caught on surveillance video, began when the infant's mother noticed her 11-month-old baby had suddenly stopped breathing, CNN affiliate KSDK reported. The frantic mother tried to revive the baby, but could not.
Abby Snodgrass was shopping nearby when she heard the commotion. The 17-year-old immediately sprang into action, pushing through the crowd surrounding the mother and infant to help.
"She did not look like a normal baby, she did not look alive. And once I saw that no one was…doing anything I asked if anyone knew CPR," Abby told the Missouri television station.

As it turned out, Abby had learned CPR a couple months back in her high school health class. When no one else stepped forward, she began performing CPR on the infant.
"I was terrified," she told the station. "I remember thinking… as I'm doing the compressions, 'What if this doesn't work?' But I had to put it out of my mind."
The local fire chief said had it not been for Abby's bravery, the baby may not have survived.
"The seconds count. In this particular case right here this young lady stepped right up to it, her training kicked in and she did exactly what she was trained to do," Mike Arnhart told KSDK.

Abby, who has already enlisted in the National Guard, said she was hoping to reconnect with the family just to make sure everything was OK with the baby.
CNN contributed to this story.