This is an archived article and the information in the article may be outdated. Please look at the time stamp on the story to see when it was last updated.
A Buckeye, Arizona mother said she had been hearing voices, was possessed and was not in control of her actions before police say she fatally stabbed her 5-month-old son on Monday, according to court documents.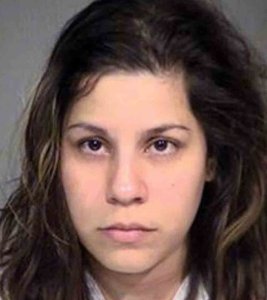 Police say Andrea Portillo, 29, faces one count of second-degree murder and one count of child abuse, Phoenix-area television station KTVK reported.
Portillo's mother says she stopped by the house after Portillo made concerning statements via phone, which also prompted a call to 911.
When police arrived, they said they found the child's grandmother holding the boy. His mother was standing behind her, covered in blood, court documents said. The child had been stabbed several times and was not responsive.
The officer took the child and tried to save him.
The boy was airlifted to Phoenix Children's Hospital but later was pronounced dead.
Portillo allegedly admitted to a police sergeant that she had stabbed her baby. Portillo's mother also told police that her daughter said to her, "Look what I did."
Portillo's 3-year-old daughter was also home at the time, and told detectives she was aware that "mom had cut the baby's neck." A third young child was also in the home.
Both were unharmed, according to the station.
The name of the 5-month-old victim has not been released.
Portillo was held on a $500,000 bond at the Maricopa County jail.