This is an archived article and the information in the article may be outdated. Please look at the time stamp on the story to see when it was last updated.
The mother of a Jets fan who allegedly punched a woman in a Patriot's jersey after Sunday's football game in New Jersey defended her son's actions.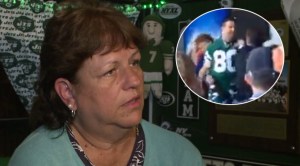 Kurt Paschke, 38, appeared to be the man who threw the punch in the incident which was captured on video and quickly went viral, according to PIX11.
Paschke's mother, Colleen Paschke, told the television station the video doesn't tell the complete story. There was a conflict that built up long before the recording began.
Colleen Paschke claims it was the Patriots fans — upset by their team's loss to the Jets — who jumped her and her son, the New York Daily News reported.
That's when her son punched the woman, Colleen Paschke claimed.
Kurt Paschke served three years in the 1990s after being convicted for fatally stabbing a 17-year-old at a pizza parlor in Long Island, the newspaper reported.
All parties were detained and interviewed, but no charges were immediately filed.