This is an archived article and the information in the article may be outdated. Please look at the time stamp on the story to see when it was last updated.
A Phoenix mother and stepfather have been arrested for allegedly striking her 7-year-old son with a metal pipe for eating chips at daycare, according to authorities.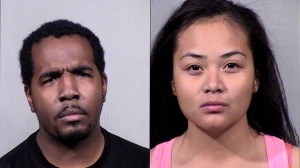 The Phoenix Fire Department responded late Tuesday morning to a report of a boy with severe injuries to his back and called the Phoenix Police Department. Responders found the boy with extreme swelling, bleeding, missing skin and bruising on his buttocks, lower back, hands and legs, according to the police report.
On March 7, a boy at the victim's daycare was eating a bag of Funyons and offered the 7-year-old the chips. When the 7-year-old boy was finished eating, he put the bag in his pocket. When the boy and his mother got home, she allegedly told him to tell his stepfather, whom he refers to as 'dad', what happened at school, according to the police report. The boy said his mother became upset and began striking him with a large metal pipe. The boy's stepfather also allegedly hit him several times with the pipe and told him to put ice his buttocks. When the boy stopped ice, the stepfather, Jay Philip Cason struck him again.
The mother, Franchesca Lourdes Ann Castro claimed she was sleeping at the time at the time of the incident and denied seeing any marks on her son.
Cason told police he was upset and made the victim run laps in their backyard and struck the boy but he claimed he didn't know what object was used because he "blacked out," the police report states.
Castro and Cason were each arrested on one count of felony child abuse.
According to the police report, the family has "multiple cases with CPS."