This is an archived article and the information in the article may be outdated. Please look at the time stamp on the story to see when it was last updated.
CHADDS FORD, Pa. — Slowly and with a hitch in his step, Sal Foti made his way to the handicapped shooting lane at Targetmaster Indoor Firearm Range & Gun Shop.
The lane is closest to the door, wide enough for a wheelchair or other equipment and marked with a handicapped sign.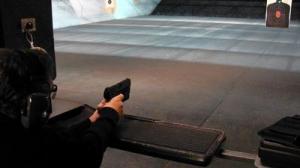 Foti, 57, a retired public relations executive, has suffered since childhood from rheumatoid arthritis, which stiffens his joints, making it difficult for him to walk or stand for long.
"To put up even the target is hard for me," he said, "It's nice to see that ranges are starting to understand and accommodate handicapped shooters. Given the aging population and the fact that we've got more of these military folks coming back disabled, I think there's going to be more of a need for it."
Click here to read the full story on LATimes.com.