This is an archived article and the information in the article may be outdated. Please look at the time stamp on the story to see when it was last updated.
You're standing at the airport check-in counter. Maybe you're thinking about work. Maybe talking to someone in line. Routine stuff.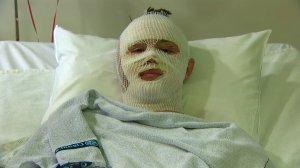 Next thing you know, there's a sound. Everything goes black. You're being hurled through the air. Your watch and shoe are gone. You're bleeding.
This is what it was like to experience the terror attacks in Brussels, Belgium, on Tuesday, which killed at least 31 people and wounded more than 230.
As their conditions stabilize, victims are beginning to talk about what happened to them. Here are some of their stories:
'I was so lucky'
Mormon missionary Mason Wells was at the airport that morning to drop off colleague Fanny Clain, who was heading to the United States. He spoke to CNN from his hospital bed, his head still wrapped in gauze.
Waiting in line, he pulled out his iPad to look something up. It was shortly before 8 a.m. The first of two bombs exploded, nearly engulfing him in flames.
"I wasn't expecting it at all," Wells told CNN's Phil Black. "I was looking down and all of a sudden, a huge blast from my right. I believe my body was actually picked off the ground for a moment."
"A large part of the right side of my body got really hot and then really cold, and I was covered in a lot of fluids, a lot of blood, and a lot of that blood wasn't mine," he said.
He found an exit amid the chaos. He took just a few steps. Then, another explosion.
"I ran over the top of this destroyed door, over a bunch of glass," he said, then he turned back to look for the other colleagues with whom he'd gone to the airport.
It was then, he says, that the pain began to hit him, and he looked down and saw his ankle was bleeding heavily.
Someone told him to sit. He did, landing in a puddle of blood. An Eagle Scout with first aid training, he began to assess his wounds. Several people tried to place tourniquets on his leg, but he told them not to, fearing he would lose it if they did.
He said he's been praying for those hurt that day.
"I feel love for those that were injured," he said. "I feel so bad."
"I'm very lucky," he said. "I know there were some that were not as lucky as I was."
Not only did Wells survive Tuesday's attacks, but he was about a block away from the first explosion at the Boston Marathon in 2013, where he was cheering on his mother who was racing.
The teen was also in France during the Paris attacks last year, but was not hurt.
'It was all gray'
Clain, the missionary Wells had accompanied to the airport, told CNN's Allison Camerota that she'd just gotten in line to check in when the bomb went off. A woman holding a newborn baby was behind her.
Next thing she knew, she was lying on the floor.
"It was all ashes all around," she said. "It was all gray."
Burning flesh stank. Sticky brown blood covered her coat.
She opened her eyes and walked away as fast as she could. She was crying.
Her family is panicked, she said, but she says she's OK. "The doctors are really nice with me, and I don't feel so bad," she says.
The source of such calm?
"Simple," she says. "God is with us."
A mother's determination
Sneha Mehta and her husband, Samip, had just returned from Abu Dhabi in the United Arab Emirates. They live in Antwerp. They were downstairs in the arrival area when they heard the explosion, and parts of the ceiling began to fall on them.
"I absolutely didn't know which direction to run in," Mehta said.
She thought for a moment that she might die there. Then the moment passed and she knew with certainty that she would survive, for the sake of her unborn child.
"I knew for sure," Mehta said. "I knew for sure."
She later wrote a letter to the baby, which an ultrasound after the attack revealed to be healthy.
"I do hope with all my heart that you are born into a better world," Mehta wrote, "and if not, then you do absolute best to make it that."