This is an archived article and the information in the article may be outdated. Please look at the time stamp on the story to see when it was last updated.
A 24-year-old mother remained in custody Saturday after her two young children were found in a wooden shipping crate in an underground cave in the Kansas City area, authorities said.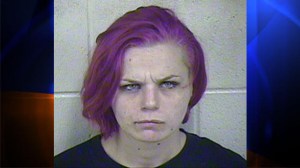 Brittany Mugrauer was facing two counts of felony child endangerment, the Associated Press reported.
The discovery was made Thursday by deputies conducting a separate investigation at the Interstate Warehouse and Distribution Center, in the 8200 block of East 23rd Street (map), the Jackson County Sheriff's Office said in a news release.
The Underground Diesel company owns the cave, where investigators were responding to a report of a "chop shop" when they happened upon the 4- and 6-year-old children, according to KSHB.
The children were barefoot and filthy, inside a 10-by-8-foot crate, the television station reported, adding that the younger child had a cup of dry ramen noodles with dirt in it.
The deputies removed the children from the location and they were transported to Children's Mercy hospital, where they were examined and bathed.
After the 6-year-old told detectives that the children lived in the cave with their mother, she was contacted and taken into custody Friday, the Sheriff's Office said.
Interviewed by investigators, Mugrauer said she had left the children in the cave without a parent for "several" days, according to sheriff's officials.
Prosecutors requested that she be held on a $75,000 bond, KSHB reported.