This is an archived article and the information in the article may be outdated. Please look at the time stamp on the story to see when it was last updated.
As a New Jersey woman's husband worked to dig their car out from under a mound of snow Saturday at the height of the East Coast blizzard, she and the couple's two young children took shelter inside the vehicle, where they were overcome by carbon monoxide due to the tailpipe being clogged with snow, authorities said.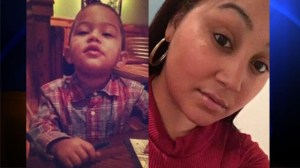 The mother, 23-year-old Sashalynn Rosa, and her two children were taken to St. Mary's Hospital, where the woman and her 1-year-old son, Messiah, were pronounced dead, according to a Passaic Police Department spokesman told NJ.com. Her 3-year-old daughter, Saniyah, remained hospitalized in grave condition Monday at St. Joseph's Regional Medical Center in Paterson, Detective Andrew White said.
The tragic incident, which Passaic Mayor Alex Blanco called a "scar on the city," happened about 8:15 p.m. Saturday as New Jersey was pounded by one of the strongest snowstorms ever to hit the Garden State, according to the Police Department.
EMS crews worked on the scene for an hour to revive the mom and her two children, WPIX reported. The mayor told the news station that the mom and son had pulses when the ambulance rushed them from the scene, but later died.
They were the first deaths in New Jersey that were linked to the recent blizzard, according to WPIX.
On Sunday, a makeshift memorial had formed where the 2000 Mazda was still parked, on Sherman Avenue in Passaic.
A GoFundMe page was created to help defray the family's burial costs.