This is an archived article and the information in the article may be outdated. Please look at the time stamp on the story to see when it was last updated.
A New York mother accused of stuffing her dead newborn baby in a trash bag and leaving it in front of her Staten Island residence has been charged with murder, according to KTLA sister station WPIX.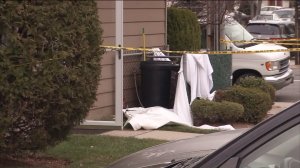 In addition to the murder charge, 28-year-old Nausheen Rahman was also charged with concealment of a human corpse, the New York City-area station reported.
The newborn's body was discovered Saturday morning by police, who initially deemed her death "suspicious."
It was later determined she was not a stillborn, the medical examiner told WPIX. The little girl had taken a breath.
Rahman had gone to an area hospital complaining of bleeding as a complication from giving birth. But hospital staff became concerned when they found no record of the woman having a baby and alerted police, according to the station, citing law enforcement sources.
The following day, police discovered the little girl's body a few feet from the condominium in a garbage can.
A cause of death has not yet been determined.