This is an archived article and the information in the article may be outdated. Please look at the time stamp on the story to see when it was last updated.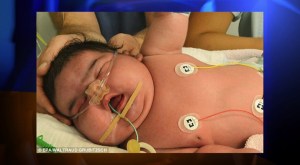 One of the heaviest babies ever born in Germany was born last week at the University Hospital Leipzig
The baby girl, Jasleen, weighed a whopping 13.47 pounds and measured nearly 23 inches long.
She was born vaginally, not via a C-section, according to a hospital statement.
"We anticipated that the child would be big," said Holger Stepan, chief of obstetrics. "We prepared in advance by assembling a special team (of doctors and midwives) to be ready for any possible complications."
The girl's mother suffered from gestational diabetes, which, when untreated or uncontrolled, can cause babies to be born larger than normal.
Click here to read the full story on CNN.com.