This is an archived article and the information in the article may be outdated. Please look at the time stamp on the story to see when it was last updated.
A mother of two young children, Chelsea Romo was enjoying a weekend with friends when shots broke out at the Route 91 Harvest Festival in Las Vegas.
As concertgoers scattered and ran through the gunfire, Romo was struck by a bullet or some metal shrapnel in the left eye and partially in the right eye — injuries that have left her legally blind.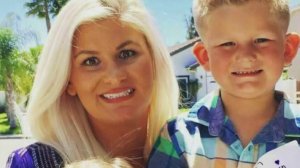 On Saturday, she returned  home to Wildomar in Riverside County, where friends and family gathered outside her home and welcomed her with cheers of applause. Just having her home was a relief to the loved ones awaiting her recovery.
"To get a call at night that your daughter has been shot is like the worst nightmare of any father," her father, Dave Ferm, said.
Lancie Lara, a friend of Romo, said she planned a special homecoming celebration through Facebook and "got such an amazing response" from friends.
"Everybody wanted to do something for Chelsea — just to see her and be a part of her," Lara said. "Just to stand out front on the sidewalk and give her a hero's welcome."
The Las Vegas massacre that left at least 58 people dead also left over 500 injured — with 78 of those people still being hospitalized and 34 of them in critical condition as of Friday evening, the Washington Post reports.
When Romo felt her eyes get pierced by metal in the chaos of gunfire, she screamed out that she couldn't see, friends told KTLA.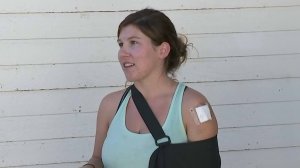 Kelsi Kessler — a girlfriend she was with who suffered a wound to her upper arm — sprung into action, helping carry Romo over a fence to get her to paramedics. Since then, Romo was being hospitalized until her return to California on Saturday.
And while Romo and all of her friends survived the attack, she has been left with life-changing injuries.
She has lost sight completely in her left eye and has considerably blurry vision in her right eye. And while the vision in her right eye could possibly heal further in the future, she is currently considered legally blind.
A GoFundMe page helping to pay for her recovery, created by a cousin, states it will also give money towards all of the future costs she may face, from child care expenses to "just gas in her car for the upcoming doctor visits."
Dozens injured in the deadly mass shooting are still being hospitalized, and Romo's father said he is praying for all of them as he met a few while awaiting Romo's recovery.
"I'm praying for all the people out there, too," Ferm said of the other victims. "We were all in the ICU together and we got to know some of the people in there. And they're still having rough times."
"I pray that they come out of it," he said.
Romo's friends and family are asking for the public's help in paying for her recovery and future expenses. Donations can be made to the GoFundMe page for her recovery.