This is an archived article and the information in the article may be outdated. Please look at the time stamp on the story to see when it was last updated.
The mother of a 6-year-old girl whose gut-wrenching pleas were heard in an audio recording from a detention center was released from immigration custody Wednesday evening.
Cindy Madrid, who was in the Port Isabel Detention Center in Texas, will now head to Arizona where she hopes to see her daughter, Alisson, who is in a facility there.
Madrid, a native of El Salvador, told CNN she was "very happy to be out" and she "can't wait to see her little girl."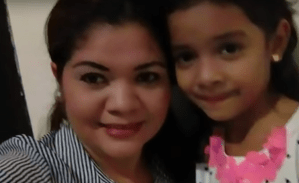 The two were separated at the US-Mexico border under the Trump administration's zero-tolerance policy on illegal border crossings. The policy has since been reversed after it drew international outcry.
Alisson's voice was heard last month throughout the nation in a recording that investigative nonprofit ProPublica published of children inside a US Customs and Border Protection detention facility. The children had been separated from their parents.
In the recording, Alisson was heard pleading with officers to call her aunt, reciting for them the number she had memorized.
The person who made the recording gave the audio to civil rights attorney Jennifer Harbury, who provided it to ProPublica.
"I don't want them to stop my father," a child whispered in Spanish on the recording. "I don't want them to deport him."
Cries of "Mami" and "Papa" were heard. An adult on the recording compared the wrenching cries to an "orchestra."
The clip was widely shared online. Journalists could be heard listening to the audio as they waited for a White House press briefing to start.
Alisson was expected to be released soon, pending DNA results.
Madrid said she was proud of her daughter and that she is "so intelligent." Her daughter has "become famous for such a good reason," she said.