This is an archived article and the information in the article may be outdated. Please look at the time stamp on the story to see when it was last updated.
The mother of an 11-month-old girl who was sexually assaulted and murdered in 1997 recently told an Oklahoma TV station that the man convicted of the crime, who is the next person scheduled to be executed in the state, should not face the death penalty.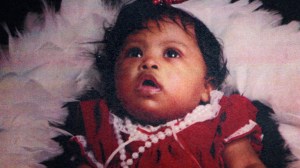 Charles Frederick Warner was arrested on Aug. 22, 1997 for allegedly sexually assaulting and murdering his girlfriend's daughter, Adrianna Waller, KTLA sister-station KFOR reported.
Waller's autopsy report showed she suffered a broken skull as well as a fractured jaw and bruising consistent with shaken baby and rape.
Warner was convicted of first-degree murder in 1999 and sentenced to the death penalty. He was scheduled to be executed by way of lethal injection on Jan. 15, 2015.
Since his conviction the baby girl's mother, Shonda Waller, asked during a March clemency hearing that Warner instead face life in prison. She later reiterated her sentiments to KFOR, the station reported Friday.
"I don't want to see him to be sentenced to death," she told KFOR. "If they truly want to honor me then they will do away with the death penalty for him and they will give him life in prison without the possibility of parole because that's the only thing that's going to honor me."
Waller, who was 22 years old when her daughter died, is a Christian and said she believes God alone should be the taker of life.
"That would dishonor my daughter, it would dishonor me and everything I believe in … When he dies I want it to be because it's his time, not because he's been executed due to what happened to me and my child. I don't want that on my hands. It makes me feel like I'm no different than him and I don't want to feel that way."
Warner's prosecutor, Lou Keel, told KFOR that Adrianna Waller "couldn't do anything to protect herself" and he didn't agree with the mother's opinion.
"This person doesn't deserve to live," said Keel. "If you're going to have a death penalty, if there are going to be some crimes, some homicides, that are so atrocious then the rape and the brutal murder of a child has to qualify."