This is an archived article and the information in the article may be outdated. Please look at the time stamp on the story to see when it was last updated.
Two astronauts conducted the first of three spacewalks Saturday to make critical repairs to the International Space Station, NASA said.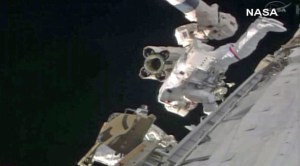 The mission was meant to fix a broken line on one of the space station's two external cooling pumps, according to NASA.
Half of the space station's cooling system malfunctioned last week, forcing the crew to turn off all nonessential equipment.
NASA identified the astronauts conducting the spacewalk as Michael Hopkins and Richard Mastracchio.
Hopkins, a Missouri  native, is a colonel in the U.S. Air Force, NASA said.
Mastracchio, born in Connecticut, is an engineer.
The two stepped out onto the space station at 7:01 a.m. ET.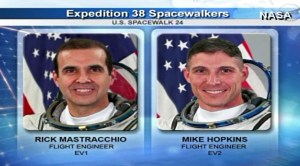 NASA wrote on its website after the spacewalk ended, "Rick Mastracchio and Mike Hopkins worked outside the International Space Station for about five-and-a-half hours on Saturday, removing a degraded ammonia pump module that has caused problems with the station's cooling system.
"On their next spacewalk on Monday, Dec. 23, the spacewalkers are scheduled to install a spare pump module that has been stored on the station's truss."
In July an astronaut nearly drowned as water rose inside his helmet during a spacewalk.
To make sure the two crew members conducting the latest spacewalk did not encounter a similar problem, NASA said it gave them snorkels in case of an emergency.
The remaining walks were scheduled to happen on Monday and Wednesday – Christmas day.
But about three hours into the project, Mission Control said the men were working so quickly, that they may only need two days to complete the repairs.