This is an archived article and the information in the article may be outdated. Please look at the time stamp on the story to see when it was last updated.
The world's largest, most-powerful rocket booster passed a crucial ground test Wednesday in an important step toward possible exploration of Mars, NASA announced.
The test of the Space Launch System booster — with 3.6 million pounds of thrust, or about 22 million horsepower — took place at a commercial facility run by NASA's partner Orbital ATK in Promotory, Utah.
It was the first of two tests planned to qualify the rocket booster for flight, with the goal of getting astronauts in the Orion spacecraft to an asteroid and eventually to Mars, NASA said in a news release.
The test "about as successful as you can get," the boosters manager said, according to a NASA SLS tweet. The second test was expected to take place in early 2016.
The federal space agency used the hashtag #JourneyToMars and #SLSFiredUp to track the event on social media.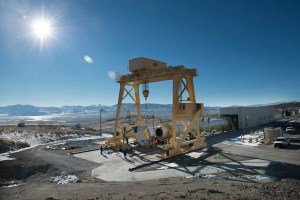 "The work being done around the country today to build SLS is laying a solid foundation for future exploration missions, and these missions will enable us to pioneer far into the solar system," said William Gerstenmaier, NASA's associate administrator for human exploration and operations. "The teams are doing tremendous work to develop what will be a national asset for human exploration and potential science missions."
Spectacular video of the test showed the five-segment solid rocket booster roaring and blazing for two minutes, the amount of time it will need to fire to help power a rocket off the launch pad.
The booster, which weighs 1.6 million pounds and is 177 feet long, reached more than 5,600 degrees during the test, according to NASA. The fire from the booster was expected to turn surrounding sand to glass, a NASA SLS tweet stated.
Once the system is complete, two of the boosters will work alongside four engines to power spacecraft out of the Earth's gravitational pull and into space.
The first test flight for the mission will take Orion — with no crew aboard — out of low-Earth orbit. Once that's successful, the systems will be prepared to go farther into the solar system.
The Orion had a successful test flight in December.
NASA says the new Space Launch System is designed to be "safe, affordable, and sustainable, to continue America's journey of discovery from the unique vantage point of space."
It will be more powerful than what was previously the most powerful rocket -- the Saturn V -- by 10 to 20 percent, depending on configuration.
That's how you make smoke and fire, baby! Yeah! #SLSFiredUp #JourneytoMars pic.twitter.com/oUsB0WrOJu

— NASA_SLS (@NASA_SLS) March 11, 2015
Booster test for @NASA_SLS complete. Teams are reviewing the data. This was a step on our #JourneyToMars. #SLSFiredUp pic.twitter.com/Dm6yolH139

— NASA (@NASA) March 11, 2015
Amazing crowd today at the public viewing area. Thanks for joining us on the #JourneytoMars! #SLSFiredUp pic.twitter.com/U5ZdiNAayh

— NASA_SLS (@NASA_SLS) March 11, 2015
Did you see #SLSFiredUp & want to know more? @NASA #JourneytoMars is in full swing! @OrbitalATK Congrats on the test! pic.twitter.com/NoSmVuxlMN

— NASAexplores (@NASAexplores) March 11, 2015