This is an archived article and the information in the article may be outdated. Please look at the time stamp on the story to see when it was last updated.
It may not be Trump Tower, but Airbnb is offering visitors a stay at President Donald Trump's early childhood home.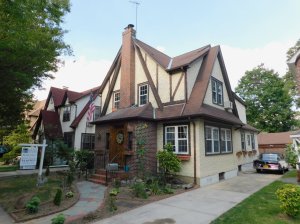 The former Trump residence, located in Jamaica Estates, a wealthy neighborhood in Queens, is available for $725 per night. The listing features five bedrooms and three-and-a-half bathrooms, along with an original kitchen and "opulent furnishings (that) represent the style and affluence in which the Trumps would have lived."
"This is a unique and special opportunity to stay in the home of a sitting president," the Airbnb advertisement adds.
Built by Trump's father, Fred Trump, in the 1940s, the Tudor-style home is where Donald lived until he was four years old, and the property is listed as Trump's address on his birth certificate.
The 2,500-square-foot home was sold last December to real estate investor Michael Davis, who flipped the property to an unnamed bidder in March for $2.14 million.
Misha Haghani, founder of Paramount Realty USA, which oversaw the property's auction last year, told CNN Wednesday that the value of the Trump home goes "beyond the brick and mortar."
"Clearly there's value in the property that's intangible in nature," Haghani said. "That's why there's demand for tenants to live there on a nightly basis, just to say they stayed in the home of the sitting President."
The Airbnb ad notes that there is "no relationship with the White House, the President, Donald Trump or the Trump organization in any way."
Along with space for 20 guests, the listing also touts that there is a giant cutout of Trump in the living room, which makes for a "great companion for watching Fox News late into the night." However, Haghani told CNN that "the cutout wasn't there when we sold the home."
Martha Taylor, chairman of Queens Community Board No. 8, which governs Jamaica Estates, said the board has already been checking with the building department and zoning codes to look into the legality of the Airbnb.
"In NYC there is a law that no more than three unrelated people can stay in house. If they are going to put 20 people in there, will they all be related?" she asked. "If they are doing anything illegal, we will have it stopped."
In the past, Trump himself has waxed nostalgic about the Queens home. When then-presidential candidate Trump was shown a photo of his old residence in an appearance on NBC's "The Tonight Show" starring Jimmy Fallon, Trump said "I had a really good childhood; oh, that's sad to look at that, I want to buy it."