This is an archived article and the information in the article may be outdated. Please look at the time stamp on the story to see when it was last updated.
A neglected dog whose maggot-infested leg fell off during a "mercy groom" after being surrendered by his owner at a Phoenix shelter is on the road to recovery, officials said Thursday.
In what is being described as a "heartbreaking" case, a 2-year-old Lhasa Apso "in terrible shape" was taken in to Maricopa County Animal Care and Control last Friday, according to Phoenix television station KPHO.
At first, no one could tell what the dog's sex or breed was because his fur was completely knotted and matted, Jose Santiago with Animal Care and Control told the station.
Maggots were also found "embedded" in his body, and were eating away at an injury on his leg, according to a Facebook post from the agency.
Staff members immediately took the canine to urgent medical care. But before he could receive medical care and treatment, they had to clean up his fur.
It was at that point — while they doing the "mercy groom" — that a portion of the dog's leg physically fell off. The reason, according to the post, is because of the severity of the infection as well as the lack of circulation due to the matted fur.
"Our veterinarian said she had never experienced anything like this before," Santiago told KPHO. "She had never seen anything like this in her career."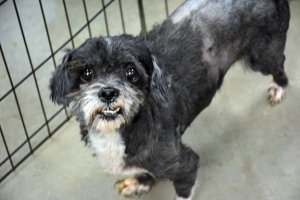 He was rushed to pet urgent care, where the rest of his rear leg was successfully amputated.
Phoenix police are investigating the incident, but it was not immediately known whether anyone would be charge, according to KPHO.
A woman told the station that the homeless dog had wandered into her son's yard about two weeks ago, and that the canine had already been neglected by then. The woman wanted to keep him, but she had problems when she tried to clean and feed the dog.
"He wouldn't let me cut his hair. He would try to bite me," she said. "I feel bad, I tried to help him and I just couldn't."
Now on the mend, the canine has been given a symbolic new name, Chance. "This little one is getting a second chance at life and being loved by someone," the post explained.
Chance may be timid — and rightfully so — but officials said they were confident he'd find a loving forever home. He is expected to be available for adoption in a week or two at the West shelter, according to the agency.
The Two Pups Wellness Fund is helping to pay the dog's medical expenses, More information can be found here.