This is an archived article and the information in the article may be outdated. Please look at the time stamp on the story to see when it was last updated.
Starting Wednesday, you can walk on a purple pedestrian bridge between two terminals that link Tijuana International Airport and San Diego over the U.S.-Mexico border.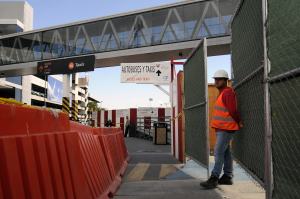 The Cross Border Xpress is the first project to join a site in the U.S. with a foreign airport terminal. It opens 9 a.m. Wednesday and will be open 24/7. Tickets are on sale now.
The $120-million private venture aims to serve about 2.4 million fliers each year who usually would have to queue up in busy border crossings at San Ysidro and Otay Mesa on the California side. The San Diego terminal is between those two crossing sites.
The bridge is restricted to ticketed Tijuana airport passengers flying out within 24 hours. Passengers arriving at the airport may use the border crossing within two hours of landing.
Click here to read the full story on LATimes.com.