This is an archived article and the information in the article may be outdated. Please look at the time stamp on the story to see when it was last updated.
When Kevin Janson Neal told a judge in February that he'd turned over his only firearm, authorities relied on the "honor system," as they often do, in taking him at his word, a Tehama County sheriff's official said.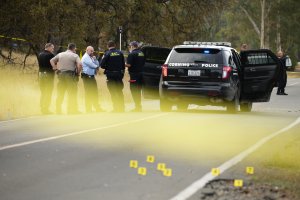 In the statement he made in a Feb. 22 court filing in response to a civil harassment restraining order against him, Neal said that he had turned in a single pistol to a Red Bluff gun business and that he had no other guns, records show.
Last Tuesday, Neal took a semi-automatic rifle he assembled at home, a .40-caliber Smith & Wesson handgun registered to his wife and a .45-caliber Glock pistol he purchased in North Carolina in 2009 and went on a shooting rampage across Rancho Tehama that left four people dead. Authorities later discovered that Neal had killed his wife the night before.
On Monday, investigators said they don't yet have information about the rifle Neal used — or a second one found in a search after the attack. There is a record of Neal's Glock in North Carolina, they said, but no record in California.
Read the full story on LATimes.com.