This is an archived article and the information in the article may be outdated. Please look at the time stamp on the story to see when it was last updated.
A 14-year-old Northern California boy who allegedly faked his own abduction Monday morning, prompting a statewide Amber Alert, was taken into custody after being located later in the day, officials said.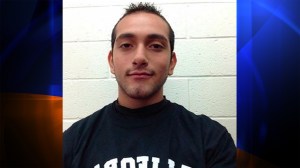 Sergio Vazquez, a high school freshman, claimed he was forced into a van by two men outside a San Andreas convenience store in Calaveras County at about 10:30 a.m., the Los Angeles Times reported.
The California Highway Patrol issued an Amber Alert for Vazquez Monday afternoon, describing him as a 14-year-old Hispanic male, standing 5 feet 10 inches tall and weighing 170 pounds.
Authorities located Vazquez in Stockton about 6:20 p.m., and took him into custody after gathering evidence which suggested the teen made up the story, the Times reported.
Vazquez was then turned over to the county's Juvenile Probation Department, according to the report.
There was no word on what the evidence was that indicated Vazquez had made up the kidnapping.