This is an archived article and the information in the article may be outdated. Please look at the time stamp on the story to see when it was last updated.
A powerful winter storm that pummeled the Northeast, killing at least nine and leaving 2 million homes and businesses without power, unleashed heavy rain and snow but inflicted its deadliest damage with fierce winds.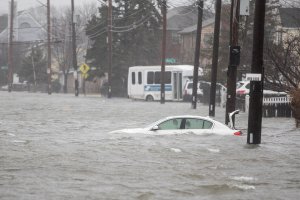 The death toll had stood at eight until Saturday night, when police in Andover, N.J., reported that a man was killed after coming in contact with downed power lines.
Four people died when winds toppled trees onto vehicles; those killed were a 57-year-old man in Upper Merion Township, Pa.; a 25-year-old man in Stamford, Conn.; a 37-year-old man in Plympton, Mass.; and an 11-year-old boy in Putnam Valley, N.Y.
In Chester, Va., a 6-year-old boy died when a tree crushed him while he slept in his bed.
Read the full story on LATimes.com.