This is an archived article and the information in the article may be outdated. Please look at the time stamp on the story to see when it was last updated.
As authorities begin to identify those killed in the wildfires raging across Northern California, a grim pattern is emerging.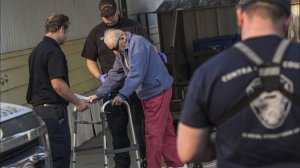 Among the dozen people identified by Sonoma and Napa county officials as of late Thursday, the average age of those who died was 79. The youngest victim was 57, the oldest 100.
"The bulk of them are in their 70s and 80s, so there is that commonality," Sonoma County Sheriff Rob Giordano told reporters at a news briefing.
A majority were found inside their homes, unable to escape as the fire bore down. At least one was confined to a wheelchair. Another was lying next to a vehicle.
Read the full story on LATimes.com.