This is an archived article and the information in the article may be outdated. Please look at the time stamp on the story to see when it was last updated.
Further burnishing his environmental legacy, President Obama on Wednesday designated two new national monuments in rugged areas of Utah and Nevada — places for which Native American groups and others have long sought protected status but that have become flash points in the debate over control of public lands in the West.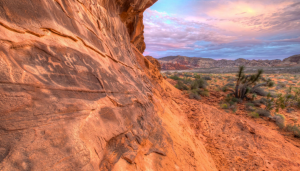 The larger and likely more controversial of the two spaces, the Bears Ears National Monument in southeastern Utah, encompasses 1.35 million acres of desert and canyons that are ancestral lands of several Native American tribes, including the Navajo Nation, whose reservation is just to the south.
Members of the Navajo, Hopi, Ute Indian Tribe, Ute Mountain Ute, and Zuni tribes, all of which pushed for the designation, will serve on a special commission that will advise the federal government on how to protect the area while also ensuring access to tribal members to collect traditional medicinal plants and perform tribal ceremonies.
The monument, which is directly south of Canyonlands National Park, is smaller than the 1.9 million acres the tribal groups had sought but larger than the 1.2 million acres that Utah's congressional delegation had proposed for protection under legislation that stalled in Congress. The tribal groups said the congressional proposal offered weaker protections against development on the land for activities such as mining and oil and gas production.
Click here to read the full story on LATimes.com.
Gold Butte & Bears Ears National Monuments protect some of our nation's most precious natural & cultural resources: https://t.co/XCam0s1OIn pic.twitter.com/fuOQ3noLRn

— White House Archived (@ObamaWhiteHouse) December 28, 2016
Thanks @POTUS for protecting Bears Ears & Gold Butte – lands sacred to tribes & important to U.S. natural, cultural history.SJ pic.twitter.com/oiONeid1kl

— Sally Jewell (@SecretaryJewell) December 28, 2016
2 new national monuments protect gorgeous landscapes, important cultural sites & wildlife habitat for future gens: https://t.co/02leB01DUV pic.twitter.com/a113oZELY6

— US Department of the Interior (@Interior) December 28, 2016