This is an archived article and the information in the article may be outdated. Please look at the time stamp on the story to see when it was last updated.
WASHINGTON — The hits to President Obama's popularity, prompted by the botched HealthCare.gov rollout, are simply a natural fluctuation every commander-in-chief faces, Obama told interviewer Barbara Walters in an interview aired Friday.
"If you remember, I've gone up and down pretty consistently throughout," Obama said in the ABC interview on Friday. "But the good thing about when you're down is that usually you've got nowhere to go but up."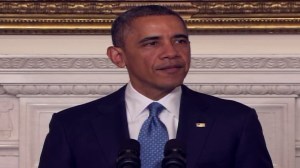 "I got re-elected in part because people did think I was trustworthy and they knew I was working on their behalf," Obama said in the network's exclusive.
A CNN Poll of Polls complied Thursday showed the president's approval rating at 41%, near a low of his five years in office. The numbers have dipped as Obama's signature health care law, the Affordable Care Act, faces problems with its website and the number of Americans whose health plans are being canceled.
Obama has taken responsibility for the website's flaws, saying he should have been told earlier about the serious issues with HealthCare.gov's digital infrastructure. He's also apologized for his vow that people who liked their plans could keep them.
In Friday's interview, Obama said he was looking for answers soon on why the rollout failed so spectacularly.
"Obviously my most recent concern has been that my website's not working," Obama said. "We're evaluating why it is exactly that I didn't know soon enough that it wasn't going to work the way it needed to. But my priority now has been to just make sure that it works."
The website troubles aside, Obama remained confident the Affordable Care Act, passed along party lines in 2010, would form a large part of his presidential legacy.
"I continue to believe and I'm absolutely convinced that, at the end of the day, people are going to look back at the work we've done to make sure that in this country, you don't go bankrupt when you get sick, that families have that security," Obama told Walters. "That is going be a legacy I am extraordinarily proud of."
That legacy — and what can be done while he's still in office to bolster it — does weigh on the president's mind, he admitted.
"Every president in their second term is mindful that you've only got a limited amount of time left," Obama said. "You want to make sure that you are squeezing every last ounce of energy that you have to try to deliver on the commitments you made to the American people."