This is an archived article and the information in the article may be outdated. Please look at the time stamp on the story to see when it was last updated.
U.S. President Barack Obama and his Russian counterpart, Vladimir Putin, held what each man described Friday as a "constructive" talk about Syria, though there's no indication it produced any breakthrough consensus.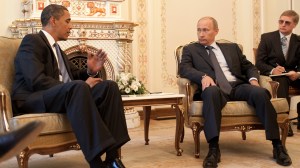 What began as small talk after Putin approached Obama led to the two pulling up chairs in the corner of the room and talking almost entirely about Syria for 20 to 30 minutes, as other leaders watched, a senior Obama administration official said.
Afterward, Obama described the exchange on the sidelines of the Group of 20 summit in Russia as "candid" — but acknowledged that Putin was unlikely to support his call for military action against Syria.
Putin gave reporters a similar account, adding, "He doesn't agree with me, I don't agree with him, but we listened to each other."
Click here to read the full story on CNN.com.