This is an archived article and the information in the article may be outdated. Please look at the time stamp on the story to see when it was last updated.
An unscripted moment Monday summed up President Barack Obama's effort to downplay problems with the government website plagued by problems in signing people up for health insurance under his signature health care reforms.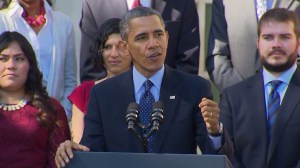 As Obama argued that the law was good and the website's problems would be fixed, one of the people chosen to stand behind him in the White House Rose Garden started to teeter.
Others supported the woman who appeared on the verge of passing out, and Obama quickly turned to help.
"I got you. You're OK," he said, reaching out to her. He then joked, "This happens when I talk too long."
Click here to read the full story on CNN.com.