This is an archived article and the information in the article may be outdated. Please look at the time stamp on the story to see when it was last updated.
A police officer jumped into a moving car to save a toddler and arrest the child's allegedly impaired mother, authorities in New York said Friday.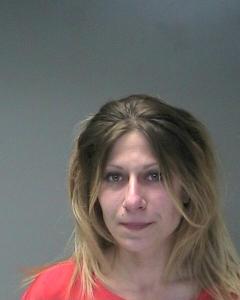 Maria Lagatta, 37, was driving approximately 20 mph eastbound on the Long Island Expressway in Manorville, about 60 miles east of Manhattan, when Suffolk County Police Department Highway Patrol Officer Joseph Goss tried to pull her over around 5:30 p.m. Thursday, police said.
When Lagatta refused to stop, Goss pulled alongside her and saw a child in the rear passenger seat, police told KTLA sister station WPIX in New York. The car slowed to 5 mph on the busy expressway.
"I'm a dad myself, so as soon as I saw the baby in the backseat … the biggest threat I saw was the safety of that child getting rear-ended," Goss said at a news conference.
Goss sped past Lagatta's car, moving back and forth across lanes to slow traffic. Then he parked his vehicle on the right shoulder before jumping into her car through the passenger seat window.
Goss reached the shifter and put the vehicle in park, he said, and neither Lagatta nor her young daughter were hurt.
"The window that she rolled down to tell me that she can't pull over was actually the window of opportunity to actually stop the vehicle," Goss said.
The girl was released to a family member and Child Protective Services was notified.
Lagatta held on suspicion of driving while ability-impaired by drugs, aggravated driving while intoxicated with a child passenger 15 years old or younger, and endangering the welfare of a child, police said.
She will be arraigned on Dec. 30.