This is an archived article and the information in the article may be outdated. Please look at the time stamp on the story to see when it was last updated.
Streets in Baltimore looked like a war zone early Tuesday after a night of riots, fires and heartbreak.
"Too many people have spent generations building up this city for it to be destroyed by thugs who — in a very senseless way — are trying to tear down what so many have fought for," Mayor Stephanie Rawlings-Blake said.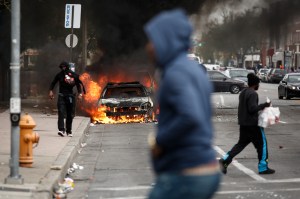 Buildings and cars across the city were engulfed in flames. About a dozen businesses looted or damaged. At least 15 officers were wounded, six of them seriously, the police commissioner said.
Late Monday night, CNN crews saw looters breaking in through the roof of a Baltimore liquor store. They were tossing bottles and cans of alcohol onto the street below.
All this came just hours after the funeral for Freddie Gray, who died of a severe spinal cord injury while in police custody.
Gray's family denounced the violence.
"I want y'all to get justice for my son, but don't do it like this here," his mother told journalists.
Gray's twin sister, Fredericka, said she couldn't understand the riots.
"I don't think that's for Freddie," she said. "I think the violence is wrong."
The destruction was so bad that children can't go to school Tuesday.
Officers seriously injured
Six Baltimore police officers were seriously injured in Monday's violence, Police Commissioner Anthony Batts said. He said many of the instigators appeared to be high school students.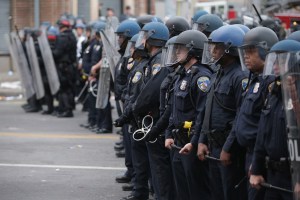 "I think they thought it was cute to throw cinder blocks at police," Batts said.
Video showed police in riot gear taking cover behind an armored vehicle as assailants pelted them with rocks.
More than two dozen people have already been arrested, Baltimore police Col. Darryl D. DeSousa said.
There were no immediate reports of injuries among the rioters.
Senior center engulfed in flames
An enormous fire broke out at affordable housing center for seniors. It was just months away from opening.
Pastor Donte Hickman of the Southern Baptist Church, which owns the facility, said 60 units of senior housing were lost.
The mayor said it's not clear whether the fire was related to riots, as the cause of the fire is under investigation.
Regardless, the loss has been devastating.
"My eyes have been filled with tears," Hickman said. "Someone didn't understand that we exist in the community to help revitalize it."
State of emergency declared
Maryland Gov. Larry Hogan declared a state of emergency and activated the National Guard. The mayor of Baltimore said every possible resource was being deployed to "gain control of this situation."
Rawlings-Blake said the city will impose a mandatory curfew from 10 p.m. to 5 a.m. daily, effective for one week starting Tuesday night.
She stressed that the city already has a mandatory curfew for young people — 9 p.m. ET for children under 14, while teenagers 14-16 have to be inside by 10 p.m. ET on school nights.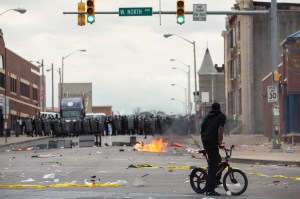 'Credible threat' to officersEarlier Monday, Baltimore police said they had received a "credible threat" that gangs were teaming up to "take out" officers.
It did not say where the information came from, nor did it say whether the threat was tied to the recent death of Freddie Gray.
"The Baltimore Police Department/Criminal Intelligence Unit has received credible information that members of various gangs including the Black Guerilla Family, Bloods, and Crips have entered into a partnership to 'take out' law enforcement officers," police said. "This is a credible threat."
Reinforcements coming in
Up to 5,000 law enforcement officials will be requested from the mid-Atlantic region to help quell the violence in Baltimore, Col. William Pallozzi of the Maryland State Police said Monday night.
And authorities say about 1,500 members of the National Guard have been deployed.
Maryland State Police ordered an additional 40 troopers to Baltimore to join the 42 troopers already sent there Monday afternoon to assist city police. Since last Thursday, more than 280 state troopers have provided assistance in Baltimore.
"Today's looting and acts of violence in Baltimore will not be tolerated," said Hogan. "There is a significant difference between protesting and violence, and those committing these acts will be prosecuted under the fullest extent of the law."
New attorney general speaks out
Just hours after she was sworn in, Attorney General Loretta Lynch decried the "senseless acts of violence" in Baltimore.
She said the Justice Department "stands ready to provide any assistance that might be helpful."
"Those who commit violent actions, ostensibly in protest of the death of Freddie Gray, do a disservice to his family, to his loved ones, and to legitimate peaceful protesters who are working to improve their community for all its residents," she said.
'They don't deserve this'
Monday's violence came the same day as Gray's funeral. The 25-year-old was arrested on April 12 and died one week later from a fatal spinal cord injury.
"I am sure that the family is concerned, and I am positive that they are against what is beginning to develop here in town," said Billy Murphy, an attorney for the Gray family.
"They don't deserve this any more than Freddie Gray deserved it," he said about the injured officers.
The mayor said the city doesn't deserve what has happened, either.
"It is so frustrating that people think that this makes sense — to destroy our community," she said. "People who live there that are already hurting are going to be the ones that pay."
https://www.facebook.com/ktla5/videos/10153304963144614/?permPage=1More Video: