This is an archived article and the information in the article may be outdated. Please look at the time stamp on the story to see when it was last updated.
Donald "Chip" Pugh didn't like the mugshot the cops posted of him online.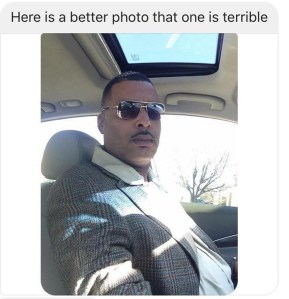 So he sent them a better one — a selfie with a note that read: "Here is a better photo that one is terrible."
The 45-year-old Pugh was wanted by police in the northwestern Ohio city of Lima because he's accused of failing to appear in court on a DUI charge.
Police say he's also a person of interest in other cases involving vandalism and an arson.
Thanks, but …
With no luck getting him, the Lima police posted his mugshot on Facebook on Jan. 6. They had his picture on file because he wasn't a stranger to them.
Then Pugh was arrested in Florida, police said Tuesday.
The Police Department said the arrest came in part "thanks to the power of social media."
Pugh was arrested by the Escambia County Sheriff's Office in Florida and was being held for warrants out of Columbus, Georgia, a department Facebook post stated.
"Alas we will wait our turn," the post stated.
Local newspaper the Lima News had reported that Pugh's previous run-ins with the police include charges of disorderly conduct, breaking and entering, and domestic violence.
The police department posted Pugh's selfie on its Facebook alongside his previous booking photos, noting first the active arrest warrant for him.
"This photo was sent to us by Mr. Pugh himself. We thank him for being helpful, but now we would appreciate it if he would come speak to us at the LPD about his charges," the department's initial post stated.
No low profile
Since the Jan. 6 post, the photo has received over 2,800 likes, 4,100 shares and over 1,200 comments. One could say that the man on the run has gained a following.
In his original mugshot from his November arrest, Pugh is smiling. He told a local radio show, "Two Tons of Fun," that he "refused to take a mean mugshot."
"When I got arrested, I had never been arrested on a misdemeanor," he told hosts Phil Austin and Ryan Staley. "So, I went in there and I was happy. I was smiling when the detective, when the officers booked me in. They were like, 'Why are you smiling?' I'm like, 'Cause I'm gonna walk out of jail in a minute. I'm so happy.'"
"I had to go to court on December 28th, and I just chose not to go," Pugh said. "When I turn myself in, I'm only doing three days. It's a three-day penalty."
Pugh explained to the hosts that the officer who contacted him didn't respect what he said, and he was arrogant with him. "Therefore, I couldn't help but to get arrogant," said Pugh.
KTLA's Melissa Pamer contributed to this article.
Got him! Chip "The Selfie guy" Pugh has been arrested in Florida. Thank you to the Escambia County Sheriff! pic.twitter.com/qmIWB4C40J

— Lima Police (@LimaPolice) January 12, 2016