This is an archived article and the information in the article may be outdated. Please look at the time stamp on the story to see when it was last updated.
A mother in Ohio was sentenced to 22 years in prison on Friday after pleading guilty to charges related to the death of her 5-year-old daughter, according to KTLA sister station WJW in Cleveland.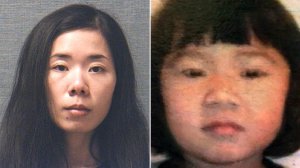 Mingming Chen, 30, was originally charged on counts including murder, child endangerment and tampering with evidence. But on Friday she pleaded guilty to a reduced count of involuntary manslaughter along with the remaining original charges in a plea deal, the Cleveland station reported.
Prosecutors alleged that Chen's daughter, Ashley Zhao, was struck in the head several times by her mother at the family's restaurant in Jackson Township, resulting in her death.
Her parents reported her missing on Jan. 9, 2017, and said she may have wandered away, but the girl's body was found the next day inside Ang's Asian Cuisine after a nearly 24-hour search.
Her father, Liang Zhao, was also charged in her death and pleaded guilty in September to obstructing justice, gross abuse of a corpse, tampering with evidence and two counts of endangering children in a plea agreement that required him to testify against his wife, The Canton Repository reported. He is expected to be sentenced now that Chen's case has concluded.
Officials said Zhao saw "green fluid" coming from his daughter's mouth after the beating and attempted to perform CPR on her in the restaurant's bathroom. When he was unsuccessful, he stuffed her body into a crawl space above the walk-in cooler, according to court documents obtained by The Repository.
The newspaper also reported that Chen will be deported upon release from her 22-year sentence, but did not disclose what her country of origin is.