This is an archived article and the information in the article may be outdated. Please look at the time stamp on the story to see when it was last updated.
When high school senior Austin Dennison learned that his great-grandmother Delores had never attended a school dance before, he decided to invite her to his prom, CNN reported.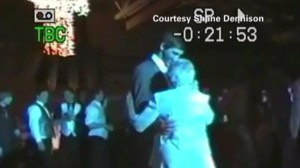 The Ohio teen made the night extra special for "Great Grandmother D.D." by serenading the 89-year-old before the prom last weekend with a song he played on his guitar, then giving her a hug and a kiss on the cheek, video posted to YouTube by Shane Dennison showed.
The pair was greeted by cheers and applause when they were announced at the prom that night, according to the YouTube video.
Later, they danced to Frank Sinatra's "Kisses of Delores," the video showed.
Delores Dennison, who never attended a school dance because she couldn't afford to at the time, said she enjoyed meeting and mingling with her great-grandson's friends, CNN reported.
She skipped the after party, however, opting instead to go to bed, according to the cable news network.
Dennison posted three photos from the evening to his Instagram account, all of which received hundreds of "likes."
http://instagram.com/p/nThWLwG96r/