This is an archived article and the information in the article may be outdated. Please look at the time stamp on the story to see when it was last updated.
Police in Oklahoma found about $30,000 worth of methamphetamine inside an unexpected container — a stuffed Easter Bunny.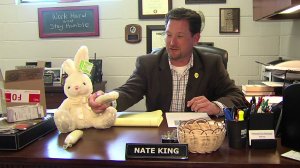 One pound of the drug was recovered after authorities received a tip and intercepted a FedEx package that was set to be delivered to a home in Tahlequah, KOKI reported.
The meth was in two condoms that had been placed inside the stuffed animal.
"Not the prize egg that we want in Tahlequah," said Nate King, the city's chief of police.
Carolynn Ross, a resident of the home where the package was to be delivered, was arrested after she admitted her intent to redistribute the meth to another person, investigators said Sunday.
She was being hold in lieu of $75,000 bond, police said.