This is an archived article and the information in the article may be outdated. Please look at the time stamp on the story to see when it was last updated.
An Ontario police officer critically injured after being shot in the head during the Las Vegas mass shooting arrived back in Southern California after being released from the hospital Friday.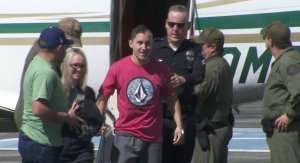 Officer Michael Gracia stepped off the plane at Brackett Field in La Verne around 1:30 p.m. to cheers and thunderous applause from the large crowd — including his fellow officers — who had gathered to welcome him home, video from the scene showed.
He was accompanied by his fiancee and brother, who had flown with him from Las Vegas, authorities said.
From the airport, he was expected to be taken to an undisclosed rehabilitation center in Southern California to receive additional medical attention, according to an Ontario Police Department news release.
"For the department, it's a good to have him home and to know he's going to receive treatment here closer to home," said Ontario Sgt. Bill Russell.
While he couldn't comment specifically on Gracia's condition, Russell told reporters at the scene that he was expected to make a full recovery.
.@OntarioPD officer injured in Las Vegas shooting greeted with cheers, applause as he returns to SoCal https://t.co/sIl0YBp31r pic.twitter.com/jV11hYwcQx

— KTLA (@KTLA) October 6, 2017
Gracia, 24, was attending the Route 91 Harvest festival Sunday night when a gunman opened fire from the 32nd floor of the Mandalay Bay hotel, killing 58 and wounding more than 500.
He underwent surgery after being shot in the head, and was initially listed in critical but stable condition, police said Monday. By Wednesday, he was able to get out of bed and walk again.
Gracia's fiancee, Summer Clyburn, was also struck by gunfire and treated for non-life-threatening injuries, according to police.
Renee Gracia, the officer's mother, told reporters that Clyburn was struck in the shoulder while shielding him from further harm.
"I believe there are angels looking over him," she said. "It's amazing they're doing so well."
The two recently became parents, with Clyburn giving birth more than three months ago to a daughter named Vayda, the mother said.
Gracia is a four-year veteran of the department. He started out as a cadet and worked as a jailer before becoming an officer, the department said.
A GoFundMe set up to raise money for the couple's medical expenses has raised more than $88,000 as of Friday morning.
.@OntarioPD Ofc. Michael Gracia, fiancée Summer and family are leaving the hospital. We look forward to seeing you soon! pic.twitter.com/cvzlUlAw2P

— Chief Derek Williams (@OntarioPDChief) October 6, 2017