This is an archived article and the information in the article may be outdated. Please look at the time stamp on the story to see when it was last updated.
Heeding orders not to evacuate but instead to shelter in place, hundreds of Houston residents found themselves trapped in their homes Monday as floodwaters from Tropical Storm Harvey rose around them.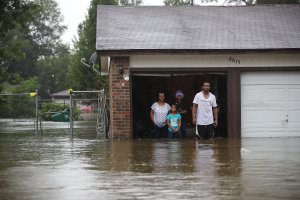 "We have no power, no water. We're flooded in. We need help," said Dana Godfrey, 46, who was stranded with her 24-year-old son in an apartment complex surrounded by water in the Lake Houston neighborhood. "They never told us to evacuate. It's never flooded over here."
Godfrey said she was terrified over reports that robbers were casing homes in flooded areas. Her calls to overwhelmed emergency services had failed to yield any response by Monday evening. Across the city, residents were reporting 911 calls that went unanswered, or being put on long holds, then told that emergency personnel could not immediately be dispatched.
"I tried the National Guard, 911 emergency, the Red Cross and everybody just kept giving me another number, saying, 'Call this number, call that number,'" said Carla Porter-Joseph, who was trying to get help for her daughter-in-law Tayosha Davis, who was trapped with her 5-year-old son in a second-floor Lake Houston apartment.
Read the full story on LATimes.com.