This is an archived article and the information in the article may be outdated. Please look at the time stamp on the story to see when it was last updated.
An Oregon boy died in Portland over the weekend after an eight-day battle with flesh-eating bacteria, prompting his mother to issue a warning to other parents about how easily and quickly the disease spreads.
The boy's mother, Sara Hebard, told Portland television station KPTV that the tragedy all started when her son fell off his bicycle.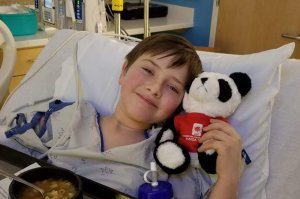 She explained her 8-year-old son Liam Flanagan was riding his bike on the driveway of his family's farm in Pilot Rock when he took a bad fall. He went to the emergency room in nearby Pendleton with a bloody thigh wound near his groin.
Hebard said Liam was stitched up with seven stitches and that she thought that should have been the end of it, but Liam complained of pain.
At first, Hebard said she treated it with Tylenol, but the pain seemed to get much worse.
Hebard said they took Liam back to the hospital in Pendleton where he had emergency surgery. He was then airlifted to Doernbecher Children's Hospital in Portland where he underwent several more surgeries.
Flesh-eating bacteria can spread very quickly, and doctors tried to cut it out from muscle and tissue stretching from Liam's ankle to his armpit.
Hebard is still stunned that all of this started when her son fell off his bicycle.
"It wasn't a big deal. It wasn't a bad one. It just needed a few stitches is all, that's it," she told KPTV. "And he was taking it like a trooper. I mean, how — how — that's what I ask – how? And there's just no answer."
Liam Flanagan died Sunday in Portland. He was a second-grader at Pilot Rock Elementary School.
Hebard said he was a sweet, kind boy who never made an enemy and made everyone around him happy. Her advice to other parents is simple.
"I would have to say for one, hug your children tight because you never know how quickly it goes, and then to pay attention to them and don't just take for granted it could just be a simple accident," she said. "And to spread awareness because people don't know. I had never even heard of this before."
A GoFundMe has been set up for the family, and more information can be found here.