This is an archived article and the information in the article may be outdated. Please look at the time stamp on the story to see when it was last updated.
Oregon has long been predicted to be a scene of major eclipse traffic jams, and even by Sunday, that was proving to be true: The Oregon National Guard was called in to Madras, a small agricultural city in the sunny part of the state, east of the Cascades.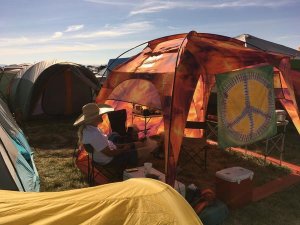 Traffic was at a standstill for hours Sunday afternoon, gridlocked as well more than 100,000 people flocked to this small, pleasant town of 7,000.
Madras, pronounced like glad or sad — not like the plaid fabric or the megalopolis in India — sits on the centerline of the eclipse's path of totality.
At Solarfest, a gathering at the Jefferson County fairgrounds that bills itself as a festival of music, science, camping and art, a pushpin map of the world marking where visitors had come from had so many pins there was no more room to document visitors from the western United States. Europe and South America were well-represented. A couple of pins were pushed into Guam. There were marked travelers from Tehran.
Read the full story on LATimes.com.