This is an archived article and the information in the article may be outdated. Please look at the time stamp on the story to see when it was last updated.
Faigy Mayer — a 30-year-old aspiring tech entrepreneur who fatally leaped from a New York rooftop bar — was given an Orthodox Jewish funeral Tuesday from her family's Hasidic community, even as friends said she was feeling rejected by them in the hours before her death.
"She wrote that she asked her family for pictures of when she was a baby, and they didn't want to give them to her," mourner Chaya Huss said.
Two hours after the Facebook post, Mayer ran through a crowd of party-goers Monday night at the trendy, 230 Fifth rooftop bar in Manhattan's Flatiron District. Mayer ran through some bushes and jumped off the roof, 20 stories to her death. She was wearing a dress and heels.
Huss said, like Mayer, she had left the traditional, Hasidic lifestyle and was seeking counseling.
"And I confided in her, when I was feeling suicidal myself, and she talked me out of it," Huss said.
Mayer appeared in a National Geographic documentary shortly after she left the community.
Another friend, Jason Wisdom, told KTLA sister station WPIX that Mayer wanted to be a tech entrepreneur.
"She wanted to be a successful, iOS developer; she was taking classes," Wisdom said. "And she was having challenges getting started there, so she was unhappy about that."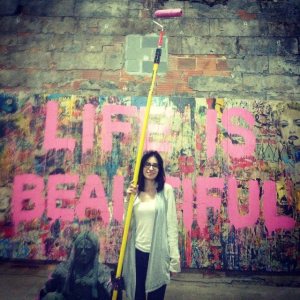 Mayer often posted happy, hopeful, and positive photos on her Facebook and Twitter accounts. One picture showed her standing in front of a wall with bright, painted words behind her, stating "Life is beautiful." On Twitter, she shared pictures of the U.S. Women's Soccer team at the recent ticker tape parade in New York City.
Mourners relayed that Mayer's father gave a pained eulogy in Yiddish at the funeral, which was held at Shomrei Hadas Funeral Home in Borough Park, Brooklyn. Those standing outside could hear his cries over a speaker, WPIX reported.
Later, Hasidic men backed up a black van to the doors of the funeral parlor, so the press could not see the casket being carried to the hearse. The men followed the hearse to the corner of 14th Avenue.
"I'm in pain," Mayer's father said at one point in English. "I can't get out of the pain."
Mark Appel, who leads the group Voice for Justice, spoke to PIX11 at Mayer's funeral.
"We need more attention to the mental health problems of our youth," Appel said specifically about the troubled youth within the Orthodox Jewish community. "We have to help out the next generation; otherwise, we lose them."