This is an archived article and the information in the article may be outdated. Please look at the time stamp on the story to see when it was last updated.
The 90th Academy Awards were held Sunday in a show that celebrated diversity through speeches, touched on social movements shaking Hollywood and broader American society and delivered some history-making wins.
Opened by host Jimmy Kimmel, the ceremony kicked off at 5 p.m. at Dolby Theater in Hollywood. The night's top prize went to "The Shape of Water" when it won Best Picture. And some other wins came with a fiery speech, like the one given by Best Actress winner Frances McDormand when she told all the female nominees to stand together at once.
Given societal themes preceding this year's event — particularly the #MeToo and Time's Up movements as part of a growing tide of awareness of sexual harassment and assault — there were some more political tones from the start.
Kimmel's opening monologue touched on Hollywood's own recent and ongoing reckoning with sexual abuse in light of the Harvey Weinstein allegations and following waves of accusations. He drove across support for the progressive movements that have sprouted up in response — in between jokes.
"The world is watching us. We need to set an example," Kimmel said. "And the truth is, if we are successful here, if we can work together to stop sexual harassment in the workplace, if we can do that, women will only have to deal with harassment all the time in every other place they go."
Actresses Ashley Judd, Salma Hayek and Annabella Sciorra, who have all accused Weinstein of sexual misconduct, joined each other on stage and presented a video montage honoring men and women who have pushed past discriminating barriers in their craft.
"We salute those unstoppable spirits who kicked a** and broke through the bias perceptions against their gender, their race and ethnicity to tell their stories," Hayek said.
The evening held some other moments of political advocacy, too, such as a message of support Lupita Nyong'o and Kumail Nanjiani offered to Dreamers — or recipients of the Deferred Action for Childhood Arrivals immigration program — while presenting the award for best production design.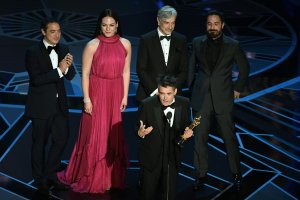 "To all the Dreamers out there, we stand with you," Nanjiani said.
Later in the evening, writer-director Jordan Peele made history by becoming the first African-American to win the Oscar for Best Original Screenplay after being awarded for "Get Out," the Washington Post reported.
The following is a list of nominees with the winners indicted with an asterisk (*) and the word "WINNER."
ACTRESS IN A SUPPORTING ROLE
Mary J. Blige, "Mudbound"
Allison Janney, "I, Tonya" *WINNER
Lesley Manville, "Phantom Thread"
Laurie Metcalf, "Lady Bird"
Octavia Spencer, "The Shape of Water"
ACTOR IN A SUPPORTING ROLE
Willem Dafoe, "The Florida Project"
Woody Harrelson, "Three Billboards Outside Ebbing, Missouri"
Richard Jenkins, "The Shape of Water"
Christopher Plummer, "All the Money in the World"
Sam Rockwell, "Three Billboards Outside Ebbing, Missouri" *WINNER
FOREIGN LANGUAGE FILM
"A Fantastic Woman" *WINNER
"The Insult"
"Loveless"
"On Body and Soul"
"The Square"
DOCUMENTARY (SHORT)
"Edith + Eddie"
"Heaven is a Traffic Jam on the 405" *WINNER
"Heroin(e)"
"Knife Skills"
"Traffic Stop"
DOCUMENTARY FEATURE
"Abacus: Small Enough to Jail"
"Faces Places"
"Icarus" *WINNER
"Last Men in Aleppo"
"Strong Island"
ORIGINAL SONG
"Mighty River," "Mudbound"
"Mystery of Love," "Call Me by Your Name"
"Remember Me," "Coco" *WINNER
"Stand Up For Something," "Marshall"
"This is Me," "Greatest Showman"
ANIMATED FEATURE FILM
"The Boss Baby"
"The Breadman"
"Coco" *WINNER
"Ferdinand"
"Loving Vincent"
ADAPTED SCREENPLAY
"Call Me by Your Name" *WINNER
"The Disaster Artist"
"Logan"
"Molly's Game"
"Mudbound"
ORIGINAL SCREENPLAY
"The Big Sick"
"Get Out" *WINNER
"Lady Bird"
"The Shape of Water"
"Three Billboards Outside Ebbing, Missouri"
ACTOR IN A LEADING ROLE
Timothée Chalamet, "Call Me By Your Name"
Daniel Day-Lewis, "Phantom Thread"
Daniel Kaluuya, "Get Out"
Gary Oldman, "Darkest Hour" *WINNER
Denzel Washington, "Roman J. Israel, Esq."
ACTRESS IN A LEADING ROLE
Sally Hawkins, "The Shape of Water"
Frances McDormand, "Three Billboards Outside Ebbing, Missouri" *WINNER
Margot Robbie, "I, Tonya"
Saoirse Ronan, "Lady Bird"
Meryl Streep, "The Post"
DIRECTOR
Christopher Nolan, "Dunkirk"
Jordan Peele, "Get Out"
Greta Gerwig, "Lady Bird"
Paul Thomas Anderson "Phantom Thread"
Guillermo del Toro, "The Shape of Water" *WINNER
BEST PICTURE
"Call Me by Your Name"
"Darkest Hour"
"Dunkirk"
"Get Out"
"Lady Bird"
"Phantom Thread"
"The Post"
"The Shape of Water" *WINNER
"Three Billboards Outside Ebbing, Missouri"
PRODUCTION DESIGN
"Beauty and the Beast"
"Blade Runner 2049"
"Darkest Hour"
"Dunkirk"
"The Shape of Water" *WINNER
CINEMATOGRAPHY
"Blade Runner 2049" *WINNER
"Darkest Hour"
"Dunkirk"
"Mudbound"
"The Shape of Water"
COSTUME DESIGN
"Beauty and the Beast"
"Darkest Hour"
"Phantom Thread" *WINNER
"The Shape of Water"
"Victoria and Abdul"
SOUND EDITING
"Baby Driver"
"Blade Runner 2049"
"Dunkirk" *WINNER
"The Shape of Water"
"Star Wars: The Last Jedi"
SOUND MIXING
"Baby Driver"
"Blade Runner 2049"
"Dunkirk" *WINNER
"The Shape of Water"
"Star Wars: The Last Jedi"
ANIMATED SHORT FILM
"Dear Basketball" *WINNER
"Garden Party"
"Lou"
"Negative Space"
"Revolting Rhymes"
LIVE ACTION SHORT FILM
"DeKalb Elementary"
"The Eleven O'Clock"
"My Nephew Emmett"
"The Silent Child" *WINNER
"Watu Wote/All of Us"
ORIGINAL SCORE
"Dunkirk"
"Phantom Thread"
"The Shape of Water" *WINNER
"Star Wars: The Last Jedi"
"Three Billboards Outside Ebbing, Missouri"
VISUAL EFFECTS
"Blade Runner 2049" *WINNER
"Guardians of the Galaxy Vol. 2"
"Kong: Skull Island"
"Star Wars: The Last Jedi"
"War for the Planet of the Apes"
FILM EDITING
"Baby Driver"
"Dunkirk" *WINNER
"I, Tonya"
"The Shape of Water"
"Three Billboards Outside Ebbing, Missouri"
MAKEUP AND HAIRSTYLING
"Darkest Hour" *WINNER
"Victoria and Abdul"
"Wonder"